Fast & Friendly Service
Same Day Pickup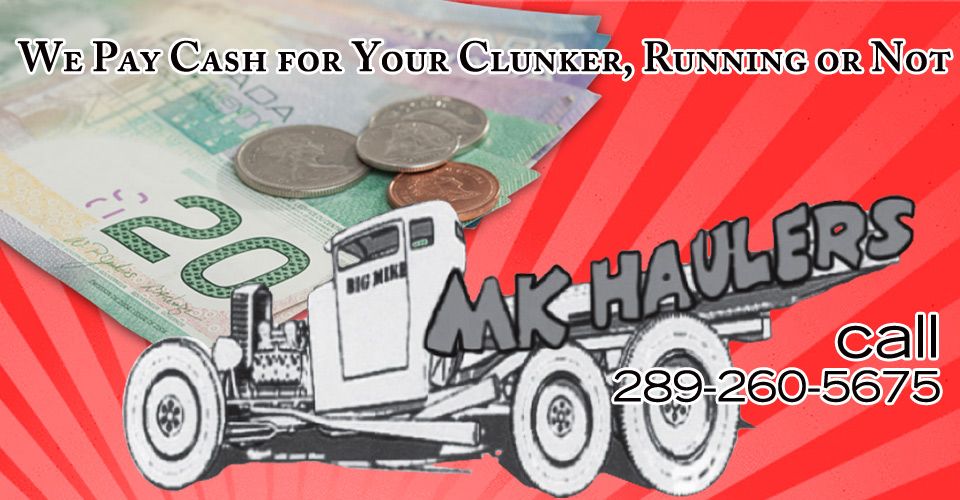 Cash for Clunkers around Greater Hamilton Area, Niagara Falls & Elsewhere
MK Haulers Cash for Cars is committed to helping our customers get value out of their rust buckets while protecting the environment.
By recycling your old car, you're helping conserve natural resources while keeping corrosive and hazardous materials out of the landfill.
And you get some money in return! Here's what we can do for you:
Pick-up car for cash
Pick-up loose scrap metal (garages)
Same day pick-up
We offer fast, friendly service from Greater Hamilton Area, Niagara Falls and everywhere in-between.
Contact Mike today and he'll be on his way!
Service Area
Fort Erie, Grimsby, Lincoln, Niagara-on-the-Lake, Niagara Falls, Pelham, Port Colborne, St. Catharines, Thorold, Wainfleet, Welland and West Lincoln, Hamilton, Burlington, Oakville, Brantford, Stoney Creek, Ancaster, Dundas and the surrounding areas
How it Works
The process typically starts with the owner contacting the cash for cars service, providing details about the vehicle they wish to sell, such as its make, model, year, condition, mileage, and any other relevant information. Based on this information, the service will then provide an offer to buy the vehicle for a certain amount of cash.
If the owner agrees to the offer, the service will arrange a time and place for the vehicle to be inspected and picked up. The owner will be required to provide the necessary documentation, such as the title, registration, to complete the transaction.
The main advantage of using MK Haulers cash for cars service is that it provides a quick and hassle-free way to sell a used car, without the need to advertise, negotiate with potential buyers, or deal with the paperwork involved in transferring ownership. Additionally, it can be a convenient way to get rid of a vehicle that is no longer needed or is too expensive to maintain.